CURRENT PROJECTS
Mapping Social Design
This is a 9-month study undertaken for the UK Arts and Humanities Research Council by Guy Julier (Principal Investigator), Lucy Kimbell (Co-Investigator), Jocelyn Bailey (Researcher) and Leah Armstrong (Research Assistant), November 2013 - July 2014. See http://mappingsocialdesign.org
Design Culture Kolding
As Visiting Professor of Design Culture at the University of Southern Denmark, Guy Julier and colleagues are organizing a series of seminars and other events to explore design culture. These will also feed back into the city's 'Design City' project. http://designculturekolding.org.
V&A Design Culture Salon
Created to stimulate debate on contemporary design issues, these take place at the V&A Sackler Centre on the last Tuesday of every month. See: http://designculturesalon.org.
Social Design Talks
Jointly organised by Lucy Kimbell, Young Foundation, Guy Julier, University of Brighton, Victoria and Albert Museum, and Jocelyn Bailey Policy Connect.
Goals of the Social Design Talks
To reflect critically on the spread of socially-motivated design practice and the use of 'design thinking' with social innovation and public policy
To bring together people working in adjacent areas, including project managers in public policy, social enterprise and innovation, and civic society, policy-makers, elected representatives, researchers, activists and designers
More info:http://socialdesigntalks.org/
ARCHIVE
Professorial Inaugural Lecture, University of Brighton, Tuesday 10 December, 2013
'Zombies and Pirates: Practising Design Culture in the 21st Century' (see video)
Festival Internacional de Diseño, Buenos Aires, October 2013
Guy Julier was an invited speaker at the day-conference entitled, 'Diseño y Tiempo'. See his lecture (in Spanish). Whilst he was there he also gave a talk and answered questions at the Universidad de Buenos Aires.
The Culture of Design (3rd edition)
Guy Julier is working on a 3rd edition of his book The Culture of Design. This will include two new chapters, one on 'Networks and Mobile Technologies' and the other on 'Studying Design Culture'. There will also be a thorough updating of other parts of the book. It's due for publication in December 2013.
Design Activism in Design and Culture
Guy Julier (with Harun Kaygan) are editing a special issue of Design and Culture on design activism. This includes a special global survey of design activist work plus historical and theoretical peer-reviewed articles. Due for publication July 2013.
Festival de la Imagen, Manizales, Colombia April 2012
Guy Julier ran a three-day workshop with PhD students of the Universidad de Caldas andlectured as part of the annual Festival de la Imagen.
Urban Change and Culture, Kolkata, 9-11 February 2012
Guy Julier was an invited participant in this round-table conference that brought together German, Indian and UK museum curators and experts in urban change.
Victor J. Papanek Foundation Symposium: ANTI-DESIGN: "Prescription for Rebellion?" University of Applied Arts Vienna, 9-11 November 2011
As part of this conference, Guy Julier chaired a discussion panel with Anthony Dunne, Björn Franke , Jamer Hunt, Felicity D. Scott and John Thackara on the Legacy of Anti-Design.
Oslo School of Architecture and Design
Centre for Design Research Opening Conference: Communicating Design Research Elegantly
Guy Julier contibuted to this conference by setting out an agenda for design activism research.
Design Activism and Social Change', Annual Conference of the Design History Society, Barcelona, 8-10 September 2011
With the support of Isabel Campi and colleagues of the Fundacio Historia del Disseny, Guy Julier convened this conference. The idea for this conference was originally conceived by Katie Hill and Guy Julier.

Harun Kaygan was one of the conference speakers. Hilde Bouchez was a session chair. Lina Kang, Jette Lykke Jensen and Katie Hill were also in attendance.
Leeds Love It Share It
Guy Julier has stepped down as a director of this Community Interest Company upon his move to London in 2011. Katie Hill continues to work with it. We set up in 2008 and, with funding from Yorkshire Forward, undertook a fine grain mapping of social networks, skills and underutilised space in one of Leeds's inner suburbs. Through this we prototyped new urban transformation possibilities in the contexts of the challenges of deep economic recession and peak oil. Read more.
Leeds Festival of Design Activism, 2-4 July 2009
A three day jamboree incorporating a Postgraduate Student Colloquium, an international Practitioner Conference, a Design Activism Gala Event and a student exhibition entitled 'Engage'. Guy Julier was overall festival director. Katie Hill convened the doctoral colloquium. Anne Schiffer coordinated the whole event. [link to festival website]
Creativity and Design: Policy, Management and Practice
Dr Liz Moor (sociologist at Goldsmiths, University of London and author of The Rise of Brands) and Guy Julier edited a book published by Berg that foregrounds issues of audit culture, routine, systemization and accountability in design. Other authors are Jane Pavitt, Lucy Kimbell, Katie Hill, AnneMarie Dorland, Sarah Owens, Nitzan Waisberg, Damian Sutton, Doug Sandle and Paul Springer.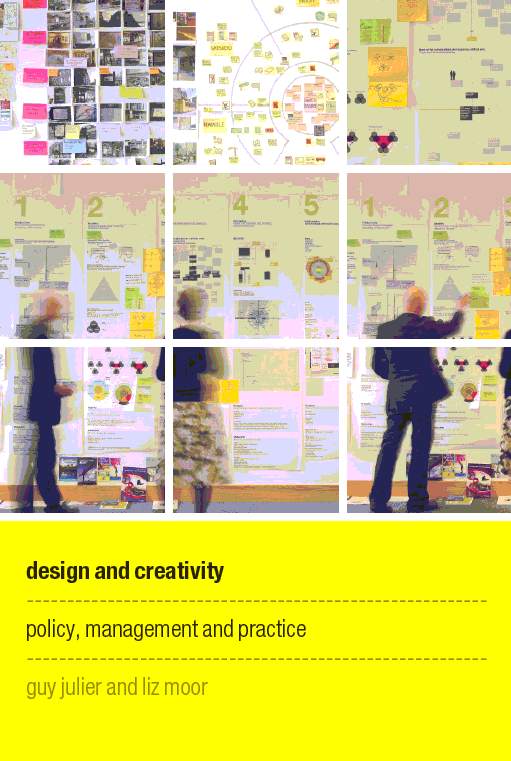 The Discipline of Creativity: Exploring the Paradox
Following his contribution to the 'Nature of Creativity' seminar of 2 May 2007 'Ars longa: establishing value', Guy Julier wrote a chapter for a book published by Cambridge University Press, edited by Barbara Townley and Nic Beech. His chapter is entitled Playing the System: design consultancies, professionalisation and value' and the book is called Managing Creativity: Exploring the Paradox.
Interview with Scott Lash and Celia Lury
In late 2007 Guy Julier interviewed cutting-edge sociologists Scott Lash and Celia Lury for anarticle for the journal Design and Culture. It's called 'Value, relationality and unfinished objects'. It appeared in the first edition of the journal in early 2009.